As people age, the effects of time, sun exposure, stress, and tobacco quickly show through on our skin. Our complexion is dulled, our cheeks and eyelids begin to droop, and wrinkles start to appear. Our body is not immune to this reality, and our silhouette is gradually transformed as little by little, weight gain and cellulite appear. Fortunately, there is a solution to these cosmetic problems we all face. We offer a variety of face and skin treatments to maintain the overall appearance, health and wellness of your body.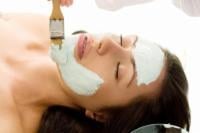 Skin Treatment Pricing
The doTERRA AromaTouch technique uses the fantastic doTERRA therapeutic grade essential oils and combines them with a special massage technique. This oil application technique brings the benefits of the individual oils, as well as the power of the human touch to the applicant.
| PRICING INFORMATION | Service | 3 Treatments |
| --- | --- | --- |
| Service | $60.00 | $144.00 |
Relax and unwind with our calming facial treatments. We offer a variety of five different options to suit your needs whether you are looking to pamper yourself or you have a specific skin concern you would like to address. All facials use the very high quality Clinical Skin Care Solutions products.
RELAXING SKIN TREATMENTS
| PRICING INFORMATION | Service | 3 Treatments |
| --- | --- | --- |
| Back Facial | $60.00 | $144.00 |
SPECIALIZED SKIN TREATMENTS
Pumpkin Exfoliating Mask
Pumpkin contains more than 100 beneficial nutrients helps to reverse the signs of again
Pumpkin contains high levels of Vitamin A and C
Pumpkin's natural Vitamin A levels are mild retinoid
Pumpkin fights free radicals damage, a causal factor in aging
Pumpkin's natural properties stimulate skin circulation
Promotes skin healing, and restores skin's elasticity
Provides nourishment for sun-damaged, weathered and aging skin
Pumpkin provides a youthful glow to dull skin
Perfect any time of the year, particularly during dry, colder months
Good for all skin types & skin tones, except for extremely sensitive skin
| PRICING INFORMATION | Service | 3 Treatments |
| --- | --- | --- |
| Pumpkin Peel | $70.00 | $168.00 |
Glycolic Peel - Severe Acne
Helps to control acne and blackheads
Deep cleans pores
Provides a smoother skin surface making imperfections less noticeable
Reduces fine lines, stimulates natural collagen production and creates a beautiful, youthful glow to the skin
Evens-out skin tones and hyper pigmentation problems
Helps to revive and reverse the ravages of sun-damaged skin
| PRICING INFORMATION | Service | 3 Treatments |
| --- | --- | --- |
| Glycolic Peel | $70.00 | $168.00 |